Who is Liable in an Arizona Swimming Pool Accident?
Pool owners have a reasonable duty of care to ensure that if guests swimming in their pool they should be safe. If their actions are negligent and lead to a guest having an accident that injuries them, the pool owner could be facing liability for their guests' damages. As the season's change, the weather gets warmer, and the days longer, the natural tendency is to head to the pools. 
Understanding liability in the event of an Arizona pool accident could be the difference between obtaining compensation for your damages or being stuck with the financial burden alone. If you have been involved in an Arizona pool accident and are unsure if you have a case, having an Arizona drowning accident attorney examine your accident situation will provide you with the answers you need to decide if you want to proceed with a personal injury claim. Remember,  you only have two years from the time of your Phoenix pool injury accident that takes place in order to file your claim, so contacting an attorney sooner than later is advisable.
How Do Premise Liability Laws Affect Arizona Pools?
Premise liability laws are the rules of responsibility that property owners have to reasonably keep others safe who may enter their property. When a person suffers an accident on a property that was due to negligence on behalf of the property owner, the victim could have the right to sue the owner for compensation to pay for their damages. Accidents that take place at a pool can be subject to premise liability rules when building a personal injury suit. Premise liability is applicable to both private and public pool owners who have entrants using their pool that suffered injuries in an accident at the pool.
Both public and private pool owners have a duty to keep their pool secured and safe from child trespassers. If a child is able to access a pool and sustains an injury as a result, the pool owner can also be liable for the aftermath of the accident even if the child was not formally invited to use the pool. Known in legal terms as the attractive nuisance doctrine, in some jurisdictions property owners that have an object or other attractive feature which is likely to lure children to their property may be held liable for injuries the child sustains after trespassing on their property. This may not seem fair, but it is better to keep your pool safe and secure to avoid liability and to preserve the lives of naive little ones.
Additionally, personal liability may apply in an Arizona pool accident. If an individual acts in a negligent or reckless way that causes another party to be injured at the pool, it may no longer be a premise liability situation. The individual that directly caused the accident and the injuries could be held personally liable to the victim for the damages they sustained.
Do You Need Legal Help After An Arizona Pool Accident?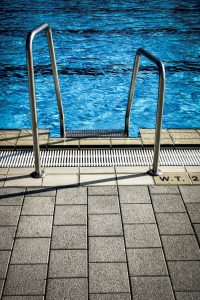 The Phoneix serious injury attorneys at ELG work exclusively on Arizona personal injury cases. After an accident at a pool where you sustained injuries, we would be happy to review your accident experience to provide you with a path forward for pursuing a personal injury claim which could include premise liability. Call the Phoenix premise liability attorneys today at ELG at (623) 877-3600 to schedule your free consultation.