Why are Motorcycles at Higher Risk for Accidents?
When it comes to transportation, motorcycles are well-known to be a dangerous option. Yet motorcycle ownership is on the rise throughout the country. When motorcyclists crash, the aftermath is often quite severe due to the lack of surrounding protection these vehicles have. Arizona has many open roads that are prime real estate for motorcycles. In 2019 the Arizona Department of Transportation crash facts summary indicates that there were 2,676 Arizona motorcycle accidents that year in the state.
While every motorist has a risk when they are driving to be in a car accident, motorcyclists are at a much higher risk for an accident. When you have been involved in a Phoenix motorcycle accident, the Phoenix motorcycle accident attorneys at ELG are who you want in your corner, fighting on your behalf to obtain the most compensation possible. The lawyers at ELG only work on Arizona personal injury cases, and we have many years of experience successfully representing our clients and helping them win their cases.
What Makes Motorcyclists More Vulnerable to Crashes?
There are reasons why motorcyclists are more prone to crashes and accidents than their car and truck counterparts. Some of the reasons why include:
Motorcycles are harder to operate and control in poor weather conditions and around road hazards.

It takes much more skill to operate a motorcycle than a car.

Motorcycles are not as visible to other drivers as cars and trucks.

There is less stability on a motorcycle.

Not every motorcyclist has plentiful training and experiencing operating their bike.
Like car accidents, there is a range of injuries that a motorcyclist can suffer. A motorcycle crash can result in minor injuries, but most often, these crashes have more severe outcomes such as broken bones, spinal injuries, traumatic brain injury, deep wounds, and death.  Severe head trauma is most common in motorcycle accidents which is why it is so important to wear a helmet when you ride.
Helmets can reduce the risk of death and head trauma significantly. Research shows that motorcycle fatalities are 28 times more likely in a crash than that of passengers in cars. According to the Centers for Disease Control and Prevention, motorcycle helmets saved the lives of 1,859 people in 2016. Don't delay in connecting with an Arizona motorcycle accident attorney when you have been in a crash. You are entitled to receive compensation when you were injured in an accident in Arizona. The attorneys at ELG will provide you with the effective and resourceful legal representation you need to win your case.
Where Can You Find an Arizona Motorcycle Accident Injury Attorney?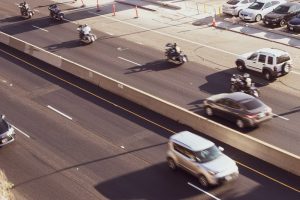 A consultation does not take much time at all but is essential for having your case professionally reviewed. It is also a helpful time for victims to have their questions answered. You deserve to have your legal rights protected. Call the Phoenix car accident attorneys today to set up your free consultation at (623) 877-3600. Our team of Spanish-speaking, bilingual attorneys is here to discuss your accident situation and provide you with options to pursue the maximum amount of compensation.