Why Vehicle Maintenance is So Important
One of the ways you can reduce your risk of getting into an accident is to keep up with your car's maintenance. According to the National Highway Traffic Administration (NHTSA), there were over 260,000 vehicles in accidents that had a minimum of one maintenance issue. There were a number of malfunctioning problems including bad lighting, brake problems, or a broken turn signal. The report also cited that there were over 200,000 accidents that happened on rainy days. What this means is that driving in the rain and driving with a car that isn't maintained are almost equally dangerous.
It only makes sense. If your car isn't able to perform properly you are at risk for others hitting you or you hitting another party when you don't have control of it. Rainy days can be slick, the visibility is reduced, and riding in inclement conditions requires an adjustment in speed which not everyone does. It is very important to keep up with your car's maintenance for your safety and that of others.
How Can You Keep Your Car In Safe Driving Shape?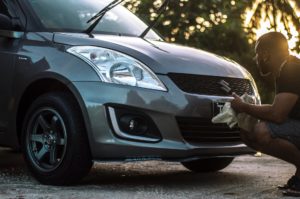 Some of the easiest and most common things you can keep up on so that your car is in good driving shape include:
Every so many thousand miles your

car needs an oil change

. Make sure you know what is recommended for your vehicle and stay on a regular schedule bringing your car in for a change when you hit either a certain amount of time or number of miles.  Additionally, make sure that you have safety checks including a professional mechanic testing out all the components of your car that break down including your brakes, tires, belts, and hoses.

Windshield wipers wear out too. If you have wipers that aren't working well, they aren't going to do you much good in the rain. When they start to wear down and aren't working as well as they used to, replace them immediately. Replacing your windshield wipers isn't a complex task. You can buy a pair at your local auto store and do it yourself, there are plenty of how-to videos online that can teach you. Or you can take it into your local shop for a quick fix.

Your lights are critical for your ability to see at night, in fog, in the rain, and in many situations while on the road. Broken and dull bulbs make for a serious hazard while driving. If your lights aren't working well for you, have them replaced.

Keep tires rotated and when the tread in your tires gets low, it is time to replace them. When tires don't have deep enough tread, they cannot grip the road well. It will be hard to drive in any condition without the risk of sliding. Especially if you are facing any type of wet condition, it will be like skating on ice. That puts you and everyone else on the road in grave danger.
What Can You Do If You Are In An Accident That Is Not Your Fault?
After seeking medical care for any injuries sustained, it is best to obtain the assistance of a legal professional. The Arizona automobile accident attorneys at ELG have many years of experience successfully representing many injured residents in Phoenix and the surrounding areas. Our team of bilingual Phoenix serious injury attorneys will fight to protect victims' legal rights.
Call us today at 623-562-3838 to set up your free consultation at either of our locations in Phoenix and Mesa, Arizona.