Forms of Negligence in the Trucking Industry
Victims of commercial truck accidents can have the potential to mount a lawsuit against multiple parties. The complexity of an Arizona 18-wheeler truck accident when it comes to investigating the details of the incident to figuring out who is responsible and by how much is something that should be done by an experienced Arizona 18-wheeler accident attorney. If you have been in a large truck accident in Arizona, you most likely sustained significant damages in terms of bodily harm and personal property damages.
You are under no obligation to work with a Phoenix semi-trailer truck attorney when you decide to pursue an Arizona personal injury claim. However, working with one ensures that your case is handled correctly and that you have all the damages you suffered included in your claim. It is important that victims of Phoenix large truck accidents obtain a full settlement that is fair based on the harm that they had to endure.
What Examples of Negligence Exist in the Trucking Industry?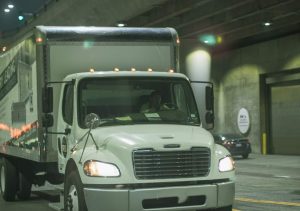 When one party is negligent, they are essentially responsible for actions that lead to inflicting harm on another party. A negligent party can be a person or a legal entity. Each has a reasonable duty to behave in such a way where they don't pose a threat to the safety of the public. When it comes to trucking accidents, a truck driver, their employer, and the broker of the goods held in the trailer can be responsible for paying the costs that a victim sustained from their careless actions. In some cases, there can be a combination of parties who are liable to pay a victim's damage costs. 
The following actions that occur in Arizona truck accidents that are considered negligent include:
Truck drivers:

Driving at excess speed

Driving while intoxicated on either or a combination of drugs and alcohol

Distracted driving

Driving while sleepy 

Trucking Company:

Not keeping vehicles up to date on required maintenance so they are safe to drive on the road.

Engaging in irresponsible hiring practices

Not providing thorough and proper training for new drivers

Putting pressure on drivers to violate Federal Motor Carrier Safety Administration regulations

Not providing a safe location for drivers to pull off and rest during required break time

Brokers:

Double brokering

Working with trucking companies that have a reputation for being unsafe

Failure to learn about the safety history and current practices of a trucking company that is hired
Speak with an Arizona 18-Wheeler Truck Accident Attorney Today
It isn't only the actions listed above that can lead to a Phoenix 18-wheeler accident which results in substantial destruction. Many actions can cause this catastrophic situation. When corners are cut, irresponsible behavior engaged, and carelessness is involved with a massive semi-trailer truck, the outcome will not be good. No victim should go without a full settlement that properly compensates them for all of the ravages they experienced.
Speak with the experienced Arizona large truck accident attorneys after your Pheonix large truck accident during a free consultation at (623) 877-3600. Our Spanish-speaking bilingual attorneys also offer remote intake.