How Common Are Big Rig Accidents?
Large semi-trucks aren't the most common vehicle on the road, but when these trucks are involved in a traffic collision, many times the outcomes for all those affected are devastating and traumatic. In the state of Arizona, large trucks and bus accidents made up just over 5% of all the crashes that took place that year. Every day in 2019 there were 2.69 Arizonians killed in Arizona traffic accidents. That literally breaks down to one person losing their life every 8 hours and 56 minutes that year alone. The cost of Arizona car accidents totaled more than $18 billion in economic losses in the state in 2019. 
If you or a loved one was involved in an Arizona truck accident and you sustained injuries, connect with the Arizona truck accident attorneys at ELG. The Phoenix personal injury attorneys at ELG only work on Arizona personal injury cases. Our team of Phoenix truck accident attorneys is strictly focused on supporting victim's rights and fighting for them so they can obtain as much compensation from their Arizona personal injury claim as possible. Further, if you suffered the tragic loss of a loved one in a Phoenix large truck accident, the attorneys at ELG will help you with a Phoenix wrongful death claim that produces the most favorable outcome. 
What are the Truck Accident Statistics?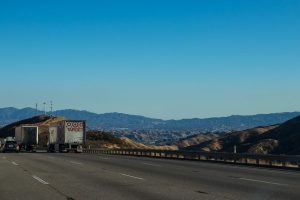 Trucks are all over the country as one of the most frequently utilized forms of transportation for goods. The United States transports more than 70% of its products and resources via large big rigs. Some of the cargo that trucks transport across the country include raw materials, food, fuel, and manufactured products to name a few. Because they are always on the road, truckers are at high risk for serious accidents that can result in their own injuries or death, not to mention those of others driving around them. 
Trucks consistently are listed as one of the most dangerous professions a person can have. In fact, large truck collisions are responsible for the second most cause of loss of life from traffic accidents in the nation. It only takes one mistake on behalf of a truck driver to have a situation quickly become bad. Truck drivers have to be well-trained, alert and experienced to reduce the risk for accidents, but even when all these factors are present, truck accidents happen. 
Trucks move approximately $671 billion of cargo annually in the United States. To accomplish this mammoth task, there are over 15 million trucks driving about our roads. The industry accounts for the employment of more than 7.4 million people. The American trucking industry is larger than every other trucking operation in any country around the globe. 
Speak with an Arizona Large Truck Accident Attorney
You are at risk of a traffic collision every time you get behind the wheel. If you have suffered injuries or lost a loved when as a result of an Arizona big rig accident, you don't have to take on the legal challenges alone. Please call the Arizona personal injury attorneys at ELG immediately to set up a free consultation at (623) 877-3600.