How to Avoid Tractor-Trailer Accidents in Arizona
When it comes to tractor-trailer accidents in Arizona, severe injuries and even death can be commonplace. In most cases, defensive driving can help prevent the majority of truck accidents.
Though defensive driving tips may seem obvious, it's important to keep a few things in mind before you get on the road with tractor-trailers or other large trucks. Collisions involving these vehicles can have tragic consequences, so it's vital to be prepared.
If you've sustained injuries in a truck accident in Arizona, contact the Phoenix accident attorneys at ELG. Our team of truck accident lawyers in Phoenix is here to help you after you've suffered in an accident that occurred through no fault of your own. While not all collisions with trucks can be avoided, there are a few ways you can maintain your safety the next time you get behind the wheel.
How to Pass Tractor-Trailers 
First, it's important to keep your distance from tractor-trailers, if you're able to do so. Don't drive next to an 18-wheeler longer than you have to, and if you need to pass, do so quickly. If a truck driver is attempting to overtake your vehicle, allow it to pass you. If you're able to safely slow down your vehicle, do so to let a tractor-trailer maneuver past your car.
Furthermore, you should never change lanes in front of a large semi-truck. Because stopping and slowing distances for big rigs are much greater than for passenger vehicles, it can be dangerous to change lanes too closely.
Driving Safely Near Large Trucks in Arizona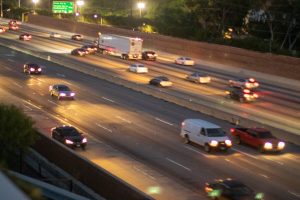 To avoid serious accidents, driving safely near large trucks in Arizona is paramount. Don't tailgate a large truck and if possible, don't allow a large truck to tailgate your vehicle. You may not be able to control the actions of other drivers, but you must take prudent action to avoid tailgating 18-wheelers. If you must, signal to pull off the road and let a large truck pass your vehicle if you can't otherwise avoid tailgating.
Moreover, you should keep an eye out for turning trucks. Most tractor-trailers have a wide turning radius, so it's essential to stay alert when you're driving near these vehicles. Truck drivers intended to turn may enter adjacent lanes of traffic without realizing it, so if you see a driver signal, change lanes to avoid them. You may move into a truck driver's blind spot if you don't keep your distance as they turn.
That's why it's also important to be cautious of large trucks on roundabouts and curves. Big rigs may be prone to drifting between lanes as their drivers are negotiating these twists and turns.
Truck Accident Attorney in Arizona
When you keep these tips for driving safely near tractor-trailers in mind, you'll be generally well-prepared on the road. But even the best drivers can't always avoid truck accidents.
If you're seriously injured or your vehicle is damaged in a truck accident, contact our Phoenix accident attorneys at ELG. Call us at (623) 877-3600 for a free consultation and no-hassle legal representation today.
After you've been involved in a truck accident that occurred through no fault of your own, it's important to seek legal recourse in the aftermath. If you or a loved one has sustained injuries in a crash with an 18-wheeler in Arizona, our truck accident attorneys in Mesa or Phoenix can help.