How to Deal with Car Accidents on the Job
Serious car accidents are stressful. From injuries to property damage, not to mention the aftermath in dealing with insurance companies, victims pay a hefty price after a car wreck. And wrecks are even more stressful if they've occurred on the job. But you've been involved in an accident, it's important to get your fair compensation for lost wages, medical bills, and other damages and injuries.
If you're interested in filing a claim after a job site crash, contact the Phoenix car accident lawyers at ELG. Our team of auto accident lawyers in Arizona is here to help you make sure that your accident claim is successful.
Keep Track of All the Details of Your Crash
If you get into a collision on your way to or from work, then the accident should follow the legal rules of any other wreck. However, there are some circumstances in which the accident may involve the injured victim's employer:
Employers of drivers who operate their vehicle as a primary job function, such as commercial truck drivers and delivery truck drivers.
Those who must drive as a primary part of work. For example, traveling salespeople may be involved.
Workers who receive compensation from their employer for commuting.
The employers of workers who travel between job sites.
This may seem daunting, but you can start by organizing the facts of the accident. Ensure you have the information of all drivers involved, including their contact information, license plate numbers, and insurance company information. If authorities responded to the scene, acquire the police report. If the fault in the wreck has not been determined, gathering all details is important in the event that your case goes before a judge to determine fault after a car accident.
Worker's Compensation After a Car Crash
Every state has a workers' compensation system in place to protect those who are injured on the job. And depending on when your accident occurred, you may have the option of filing for workers' compensation benefits. Workers' compensation rarely covers the full cost incurred by victims after an accident, but these benefits can offer valuable relief. Typically, insurers issue these payments immediately after an accident. These quick payments will help cover medical expenses and lost income.
And when it comes to making a claim, there are a number of variables that need to be considered. You must determine your overall financial loss, which may require experts to analyze and calculate data. This will determine your lost wages, future medical costs, and long-term effects as a result of your wreck. Your lawyer can also help you stay abreast of the timelines and the statute of limitations for personal injury cases in Arizona.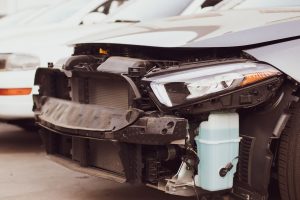 Car Accident Attorney in Arizona
After a car accident, it's important to stick to the facts, stay calm and collected, and consult your attorney. Even if you've sustained injuries in a collision, you should contact your attorney to review your options. Your lawyer will help you stay organized and act as your liaison with all involved parties, making the process stress-free.
Contact our Phoenix accident lawyers at ELG today at (623) 877-3600 for a free consultation.