How to File an Arizona Truck Accident Claim
There are several regulations put in place by the Federal Motor Carrier Safety Administration which are aimed at preventing large truck accidents. Even though truck drivers and their employers are expected to follow all of these guidelines this doesn't always happen. Trucking companies want to get cargo to their destination as quickly as possible. Bending the rules in terms of how much driving a trucker is engaging in or failing to take required rest breaks to happen. If a truck accident results that can be connected to violations by a truck driver their company or both, the victim of that accident should connect with an Arizona commercial truck accident attorney immediately.
After a large commercial truck accident in Arizona, it is reasonable to feel overwhelmed and confused about what to do next. The shock of such an incident can cause a victim who would normally be level-headed and knowledgeable to have their thinking become fuzzy. In cases where there was extensive bodily harm, it can be especially difficult to move forward with the necessary steps for obtaining compensation. The Arizona commercial truck accident attorneys at ELG can provide victims with the guidance and feedback that they need to be able to properly heal and receive the full amount of compensation they need for all of the losses they suffered.
Steps to Take for Filing an Arizona Commercial Truck Accident Claim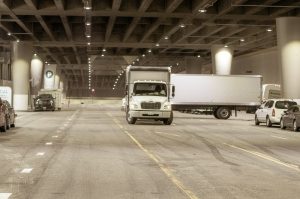 As with any accident, it is vitally important to your health and well-being that you are seen by a medical professional to get the diagnosis and treatment necessary to recover. Avoiding being seen by a medical professional can lead to a worsening of your injuries or even the development of new ailments. Medical treatment also provides documentation of the harm you sustained from your accident. This important information will be built into your personal injury claim and be a part of what determines the value of your case.
In addition to medical care, the police should be alerted that the accident took place and officers should come to the scene. The police can review the accident scene and include in their report who they believe is liable. Then, connecting with a Phoenix personal injury attorney will allow for a thorough and concise investigation of the accident situation you had to endure. Through the investigation, strong evidence for your case can be gathered.
Speak with an Arizona Commercial Truck Accident Attorney Today
Due to the complexity that is involved in figuring out who is liable and determining where to obtain evidence after an Arizona semi-truck accident, it is best to work with a Phoenix semi-truck accident attorney at ELG. The best way to ensure your Phoenix personal injury claim is filed properly, that it includes all of the damages you suffered, and that it is valued appropriately to account for your losses is to work with ELG. Call ELG today to schedule your free consultation at (623) 877-3600.
The bilingual, Spanish-speaking attorneys at ELG also have the remote intake with your safety and comfort in mind.