Investigating an Arizona Commercial Truck Accident
Even the most trained and experienced commercial truck driver can have an accident. When a large commercial truck rolls over onto or smashes into a smaller passenger vehicle, the destruction is immense. Victims of commercial truck accidents in Arizona can be stricken with permanent life-long injuries and are also at high risk for death. It is critically important that any victim of an Arizona commercial truck accident connect with an Arizona commercial truck accident attorney as soon as possible to get the Arizona personal injury claims process started.
The Arizona serious injury attorneys at ELG know how to manage complicated Arizona semi-trailer accidents and have extensive experience fighting for victim's rights to be preserved. You will need to get as much money in your settlement as possible to pay for all of the losses you suffered and the Phoenix commercial truck accident attorneys at ELG know how to build cases that do just that. One important part of building the strongest claim is the investigation process.
How Do You Investigate a Phoenix Commercial Truck Accident?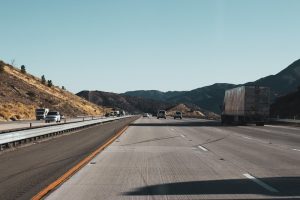 Depending on the trucking company that hit you, they may have a documented past of collisions on the road. Information about the frequency of accidents and the details surrounding these accidents could put into question if the company is following Federal Motor Carrier Safety Administration Guidelines or not, or if their hiring and training process is incompetent. The regulations and rules that truck drivers and trucking companies must follow that are given to them by the  FMCSA are to be taken seriously. These rules are meant to increase safety on American roadways.
Victims should always document and gather as much information and details as possible after an Arizona traffic accident. Calling the police to have a report made, seeing the doctor, keeping track of medical costs and keeping up with prescribed treatment, taking videos or photos of injuries and writing down any mental and physical pain that is being experienced, and noting what property damages took place are important actions for victims to take. Also detailing how you were affected financially whether it be by having to miss work or if you had suffered disabling injuries where you had to update your home to accommodate your condition are also crucial to your claim.
The Arizona commercial truck accident attorneys at ELG will provide a comprehensive investigation of the details of your accident situation. Targeted questions will be asked and analyzed to get a more thorough understanding of every aspect of your accident. Some things that your attorney will look at include:
Was the truck driver engaged in reckless actions like driving while distracted, inebriated, or drowsy;

Were any FMCSA regulations violated;

Was the truck loaded correctly;

Did any part of the truck malfunction or was the truck not properly maintained;

Was the truck driver acting in a responsible way with care towards others on the road?
Speak with an Arizona Commercial Truck Accident Attorney Today
To obtain the most effective legal counsel with the strongest track record of success in the greater Phoenix area, call the Arizona serious injury attorneys at ELG. You can schedule your free consultation with ELG by calling (623) 877-3600.