Large Truck Accidents in the United States
Large truck accidents happen every day across the country and there are hundreds of thousands reported each year in the country. In 2015, there were approximately 415,000 police-reported large truck accidents and over 4,000 resulted in fatal consequences. More than 87,000 of these crashes in 2015 caused bodily injuries and the vast majority, 342,000 ended in major property destruction.
Large trucks are a necessary part of what is needed to keep America running and strong. For this reason, it is unlikely that trucks, which transport over 70% of all goods across the country, are going to be removed from our roads and streets anytime soon. As a consequence of this reality, passenger vehicles and large trucks will have to share the road and when they do, there is no avoiding large truck accidents with smaller, passenger vehicles.
Statistics About United States Large Trucks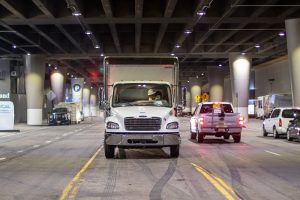 Large truck accidents can lead to immense catastrophe, specifically for those who are in smaller passenger vehicles. In 2015 69% of all the lives lost in large truck-related accidents were occupants of passenger vehicles while only 16% of deaths were to truck occupants. The most truck-related fatal crashes and truck-related injury crashes that took place in 2015 took place on weekdays. Approximately 83% of fatal truck crashes and 89% of truck crash injuries happened on a weekday. 
In 2015, rural roads boasted the most fatal truck-related crashes at 60%. That year, urban and rural roads made up 25% of all deadly truck-related crashes. Truck driver inebriation on drugs or alcohol or over the counter drugs was the leading cause of accidents.  Next, speeding and fatigue were on the list of the most common reasons behind truck-related accidents. The biggest reason for truck-related accidents where fatalities occurred happened when trucks collided with other vehicles driving on the roads.
In Arizona, truck accidents happen regularly. Responsible for more than 5% of all Arizona traffic accidents in 2019, truck accidents may not be the most common type of accident but the devastation just one can cause make any 18-wheeler accident significant. The settlement amounts that Arizona large truck accidents can garner have the potential to be very high specifically because of the amount of immense destruction these types of accidents cause.
Schedule Your Free Consultation with an Arizona Truck Accident Attorney Today
When it comes to accidents with large, commercial trucks there can be many parties involved in being responsible for the aftermath. Phoenix truck accidents are complex and because of this, to ensure that you get your full amount of compensation from all viable and negligent parties, it is best to connect with the Spanish-speaking, bilingual Phoenix serious injury attorneys at ELG.  The attorneys at ELG only focus on Arizona personal injury cases and we know how to deliver results to the clients that work with us. Do not delay in calling the Phoenix personal injury attorneys to schedule your free consultation at (623) 877-3600. ELG also offers remote intake for your safety and convenience.