Most Common Equipment Failures in Commercial Trucks
There are guidelines set forth by the Federal Motor Carrier Safety Administration that trucking companies and truck drivers must follow. These rules are necessary because large, 18-wheeler trucks are very dangerous. These rules are meant to keep the public safer when big rigs are near. There are several factors that can lead to 18-wheeler accidents and the aftermath of these incidents are often significant. Commercial trucks can weigh as much as 80,000 pounds and can be upwards of 80 feet in length. When driving at highway speeds, these massive vehicles pose immense perils to others if just one thing goes wrong.
If you suffered harm from a devastating commercial truck accident in Arizona, then you need the very best, most experienced Arizona commercial truck attorney representing your case. The Arizona 18-wheeler accident lawyers at  ELG only work on personal injury cases and have extensive experience managing big rig accidents for victims. Catastrophic damages like what is seen after Phoenix commercial truck accidents often require large settlement amounts to cover the vast harm and destruction victims sustained. It is important that only a knowledgeable Arizona commercial truck accident lawyer handle these intricate cases.
What is the Leading Type of Equipment Failure in Big Rig Trucks?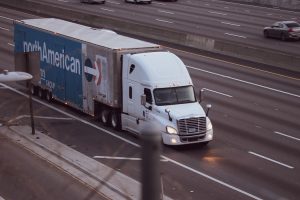 Commercial truck accidents have a higher chance of being deadly and more than 5,000 people die in these incidents across the United States every year.  When a truck isn't properly maintained or there are defective parts, it becomes an immense danger to others when in motion. While driver error is the most common factor that leads to commercial truck accidents, various types of equipment failure are not far behind. 
Any of the following incidents can cause a calamitous accident:
Tire blowouts

Faulty steering

Trailers not being correctly attached

Issues with front brakes

Transmission malfunctioning

Brake failure

Broken side and rear lighting
While any one of these issues can arise and cause a crash, it is brake issues that are the most prevalent defect involved in commercial truck accidents. The Department of Transportation indicates that of all the commercial truck accidents reported every year 30% are related to brake complications. If you are in a Phoenix commercial truck accident due to an equipment failure in a truck, there may be one or more than one party responsible to pay for your damages. Negligence is assigned to anyone or a combination of the following:
The truck driver

Whoever is responsible for the truck's maintenance

The entity that was used to load the truck's cargo

The brake manufacturer 
Speak with an Arizona Commercial Truck Accident Attorney Today
Because truck accidents can have multiple parties liable for damages and because there are many more intricacies involved in building a comprehensive claim you should work with the most skilled and seasoned Phoenix 18-wheeler accident attorney. The Spanish-speaking, Phoenix serious injury attorneys at ELG have the resources and the know-how to put together a thorough claim that yields victims a fair settlement for the damages they had to endure. Call ELG today to schedule your free, no-obligation consultation at (623) 877-3600.