Reasons Why Truck and Car Fires Happen
Car fires aren't a common occurrence but a car fire that takes place is nonetheless extremely dangerous and could be deadly. In 2018, there 181,500 reported vehicles that caught fire and there are many reasons why a car can go up in flames. If you were injured in a car or truck fire, it is important to learn about your legal options for obtaining the most compensation through an Arizona personal injury claim. Determining who is liable will depend on the circumstances of your situation. 
To get a better understanding of what you can do for obtaining the maximum amount of compensation to cover all of your expenses after an Arizona car fire, contact the Arizona personal injury attorneys at ELG. ELG specializes in Arizona personal injury cases and will be with you from the start of your claim all the way through to court if your case goes that far. The Phoenix commercial truck accident attorneys at ELG are always prepared to provide the most effective legal support and advocacy to victims of injury accidents in Arizona.
How Do Car and Truck Fires Happen?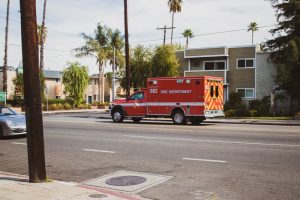 Fires can happen in pickup trucks, vans, sedans, and commercial trucks when an accident takes place. However, accidents aren't the main contributing factor to these events. It is malfunctions or issues with the components and systems of the vehicle itself that are most often the culprit. In some cases, smokers that leave behind cigarettes that aren't fully put out can cause fires too.
This is why it is important that if you are a smoker, smoke outside if you can. When you must smoke inside of your car the U.S. Fire Administration says to make sure that you thoroughly put your cigarette out in an ashtray. The other thing to do is to have your car regularly serviced and taken into your mechanic if you suspect anything is a miss to ensure that your fuel system and your car or truck's electrical wiring is in good working order. Keeping current with routine car care will keep you informed on any potential defects or issues.  Problems with these systems can lead to a fire.
The injuries that you sustain from an Arizona truck fire or car fire can be from the following:
Manufacturing or design defects that were in existence without you knowing and could have been present when you drove your car off of the lot. Unless you were notified by a recall notice or took your car into the shop and got word there was an issue with the structure or components of your vehicle, you wouldn't expect any issues like a car fire to occur.

If the owner of a car doesn't keep up with the required maintenance the life of their car will be limited. Not just that though, issues can arise with the car's operational systems which if neglected, can lead to overheating and a fire.
Speak to an Arizona Serious Injury Accident Today
The details of your Arizona traffic accident situation will be necessary to figure out who is liable for the damages you sustained. It could be that the owner of the vehicle is at fault, the manufacturer, or both. The Arizona automobile accident attorneys at ELG can examine your accident situation and establish the appropriate course of actions to take that ensure you will have a strong Arizona personal injury claim covering all of the costs from your accident. Call ELG today to schedule your free consultation at (623) 877-3600.