Resources to Help Phoenix Drivers Travel Safely
When driving throughout the greater Phoenix region, it is likely you are going to experience traffic jams and congested traffic patterns at some point. Luckily, Phoenix doesn't have the most crowded roads in the country, but in terms of roads in Arizona, Phoenix has increased traffic. Because people drive for more miles in the area and there is the potential for more cars and trucks on the roads, accidents happen much more frequently in Maricopa County than in any other county throughout the state. The majority of car accidents, more than 70%, take place in Maricopa County.
If you have been in a Phoenix car accident, call the Phoenix car accident attorneys at ELG to review your accident experience. Every accident is different and the details matter when it comes to securing the most compensation possible in a Phoenix personal injury claim. The Phoenix personal injury lawyers at ELG only work on personal injury claims and know what is necessary to secure the maximum amount of compensation.
How to Best Navigate the Roadways in Phoenix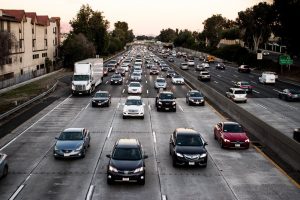 You may not always be able to avoid traffic and even the most experienced and responsible driver cannot stop all perils on the roads. However, there are resources that you can use to better navigate your travels when you are driving throughout the greater Phoenix area. These resources may help you stay safer on the road and reduce the amount of time it takes you to get from one place to the next.
The

Arizona Department of Transportation has its own app

and it is free for users. The benefit it offers is invaluable for drivers. You can get real-time information about everything that is happening on the roadways, this means information about both planned and unplanned events. This can help you better map your route to figure out the quickest and most efficient directions.

Before you head out, you can dial 511 or you can go online at

az511.gov

to learn more about the state of the roads. When poor conditions exist on a road you plan to travel, you will be able to make adjustments to your route.

Even if everything looks good on the roads but you hit a snag and are stuck, the Arizona Department of Public Safety allows you the ability to access Roadside Motorist Assistance to help you get off of the road.
Proactive trip planning can help you be safer on the road as well as travel more competently and reduce the amount of time it takes you to commute.  Remember, all of these resources are helpful, but only access them when you are not driving. Using your handheld device or any other device while driving is very dangerous and will increase your risk for an accident.
Speak with an Arizona Personal Injury Attorney Today
The Phoenix personal attorneys at ELG want to ensure everyone has access to resources that will make our region's roads safer as well as to make traveling more enjoyable. Responsible trip planning and safe driving measures are important to help support your travels throughout Arizona, but they won't insulate you completely from the risk of traffic accidents. If you were injured in an Arizona traffic accident, Call ELG to discuss your Arizona personal injury claim during a free consultation at (623) 877-3600.