Rollover Accidents and Trucks in Phoenix
Driving next to large trucks is never ideal for smaller cars. These massive vehicles restrict your ability to see what is ahead and if you are stuck between trucks you will face difficulties seeing around. Additionally, trucks are known to have a hard time seeing smaller vehicles and as such can make moves in traffic like changing lanes without awareness that a smaller car may be nearby. 
Accidents with trucks are serous and their results are, many times, devastating. There is a wide variety of factors that can lead to truck accidents including technical malfunctions, the drivers may lose control during operation, jackknifing, etc. In any accident involving a truck and a smaller vehicle, it is most often the smaller vehicle that takes the brunt of the damage. 
One of the most detrimental types of accidents that occur on the roads are rollovers. These crashes are responsible for causing more serious injuries than other types of incidents. The rate of victims becoming stuck inside after a rollover and requiring professional extrication is very high. When it comes to trucks barreling down the highways, they are more prone to rollovers than their smaller counterparts.
Rollover Accidents And Trucks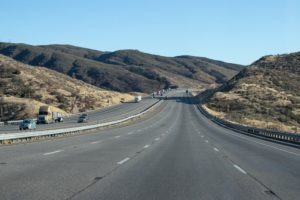 The Federal Motor Carriers Safety Administration (FMCSA) reported that in 2012 there were more than 317,000 accidents that involved trucks. According to the FMCSA, there are more than 1,300 cargo tank rollovers each year in the United States. Each day nearly 4 rollovers will take place. 
The heavyweight of semi-trucks makes operating them much more difficult and technical than driving a smaller passenger vehicle. Truck drivers must be aware of many factors on the road and drive with extreme caution. Making changes in speed or direction is not an easy task in a large truck, and if done incorrectly, the results can be disastrous to others on the road.
From 2016 to 2017 there was a 10% increase seen in the number of large trucks that were a part of fatal crashes. In 2016 it was reported that there were 4,251 fatal crashes involving large trucks while in 2017 that number rose to 4,657. During this time frame injuries also rose. In 2016 there were 102,000 injuries from crashes involving large trucks while in 2017 there were 107,000 marking a 5% jump in cases.
Have You Been Injured In a Phoenix Truck Accident?
Arizona has many trucks that pass through our state. Our wide-open roads have many twists and turns. When a truck is driving at a high rate of speed, turns can easily become perilous especially to others who are driving on the roads with them. If you have been injured in an accident with a truck you will need to pursue a personal injury claim to obtain compensation. Claims against large trucks can be complex with many parties involved. A Phoenix 18 wheeler accident attorney is vital to ensuring the responsible parties pay for your damages. 
The Phoenix car accident attorneys at ELG will advise you, guide you, and answer all of your questions during the personal injury claim process. 
Call ELG today at (623) 562-3838 when you need effective legal representation. You can schedule a free consultation with one of our talented attorneys at either our Phoenix or Mesa, Arizona locations.