Is a Semi Truck Accident Likely in Arizona?
Trucks provide valuable transportation of products and goods across our country. They are the reason our stores' shelves are stocked and that we have access to the food, merchandise, tools, and other necessities that households need. However in Arizona, semi truck accidents are frequently seen on the roads. The landscape of our state is such that there are many winding roadways that also come with very steep ascents and descents making driving quite difficult at times. For  inexperienced truck drivers or those who misjudge their speed, a horrific semi truck accident can easily follow.
If you are in a semi truck accident in Arizona that was not your fault and you were injured, figuring out who is responsible for compensation is trickier than if you were in a crash with another comparable motor vehicle. It is possible that either the driver, the trucking company, or the manufacturer of the goods loaded in the truck could be to blame. It is also possible that a combination of these parties is responsible for paying for your expenses after your semi truck accident. For this reason, speaking with a Phoenix semi truck accident attorney will be enormously helpful for you to learn about your options for pursuing the most compensation to help you with your damages.
Are Large Semi-trucks on Arizona Roads Dangerous?
Certainly, not every semi truck accident that involves a large commercial truck is always caused by the truck. There are many cases where multiple parties could hold some amount of liability in an accident or the negligent behavior of another driver can also cause a crash. However, when accidents happen where large trucks are involved the aftermath is often devastating. Across the country, statistics show trucks are a part of one out of eight fatal crashes. That statistic alone is sobering, and is a great reason to be extra cautious when driving next to or around a commercial vehicle.
The data surely illustrates that trucks can be a serious danger on the road. In this country with over 6 million accidents every year, the rate of crashes with trucks and the cataclysmic outcome of these accidents is surely something for all drivers to think about. Taking extra precautions when driving near a truck isn't a bad thing to consider. 
The Arizona Department of Transportation Crash Reports shows that in 2019, truck driving was named the seventh most fatal job in the country, with over 1,000 fatal work injuries that year, and 5,096 crashes involving commercial vehicles that resulted in the death of the truck driver or another person. After a semi truck accident, victims may need substantial medical care and therapy to help them recover from injuries, and in some situations, full recovery to the way they were before the accident may not be possible. The major personal property damages on top of the pain and suffering, medical treatments, and emotional scarring can be very high for victims. It is vitally important that victims of a semi truck accident get a fair settlement, and the best way to ensure that this happens is to meet with an Arizona semi truck accident attorney at ELG.
Where Can I Hire a Semi Truck Accident Attorney In Arizona?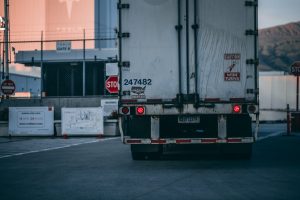 If you were a truck driver that did not cause a crash it is often the knee jerk reaction to blame you especially if a smaller vehicle was markedly damaged. You will need aggressive legal representation. If you are on the other side of the accident and hit by a truck in Arizona you also need forceful legal representation to obtain a fair settlement. 
 Call our Arizona semi truck accident injury lawyers at ELG today at (623) 877-3600 to schedule your free consultation.