Should You Sign a Medical Release Form After an Arizona 18-Wheeler Accident?
After a severe 18-wheeler accident, victims oftentimes need to recover the costs from the damages they incur. Some of the damages can include medical costs, property damages, lost wages and this isn't an exhaustive list. There are several areas where a victim of an Arizona 18-wheeler accident will need to recoup the resulting expenses. Filing an Arizona personal injury claim is a way that a victim can hold negligent parties accountable for the harm that they caused.
If you have been in an Arizona semi-truck accident, you will need to obtain the most compensation possible to ensure that all of your costs are covered. The Arizona semi-truck accident attorneys at ELG can help you with your claim and fight on your behalf to ensure that you receive a fair settlement that includes compensation for all of the damages you suffered.
Signing Forms From the Insurance Company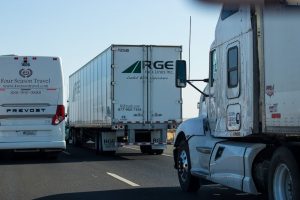 The insurance company that is responsible for paying for your damages is not on your side. They are going to do everything they can to close your case fast and for the lowest amount. To do this, they will engage in many strategies to overwhelm you, frustrate you, and get you to give up. They will try to get you to be more willing to sign off on a lower settlement so you can just move on with your life. The problem is, if you accept a settlement that is far below your actual needs, you will be stuck paying for the costs that aren't covered by your settlement out of pocket.
It is critically important that you don't readily sign the forms the insurance company sends to you because you may be signing away your ability to obtain a fair settlement amount. One of the forms you will receive is a medical release or medical authorization. This is a form that allows the insurance company to have access to reviewing your entire medical history, even if the information they are looking at is unrelated to injuries associated with your accident.
The insurance company wants this broad access to your medical history so that they can look at it and find any pre-existing condition to minimize the harm you sustained in your accident. If they can link something in your medical history to your current condition, they can say that the accident wasn't the cause of your damage and as a result, not compensate you or offer you less. In some situations, signing this form is appropriate but for many situations, it is not. You don't have to allow the insurance company that amount of freedom with your private medical history.
Speak with An Arizona Personal Injury Attorney Today 
Your attorney can advise you on how you should proceed with a medical authorization form and all other forms that the insurance company sends you. The Phoenix injury attorneys at ELG will protect your best interests and only allow the insurance company to see the information relevant to your case. To speak with an experienced Arizona large truck accident attorney and discuss your accident situation during a free consultation, call ELG at (623) 877-3600.