The Psychological and Physical Impacts of Arizona Large Truck Accidents
All traffic accidents have the potential for devastation, but when a much smaller passenger vehicle is in an accident with a commercial truck, the risk of major injuries to the occupants of the smaller passenger vehicle increases substantially. Very large and heavy trucks can inflict immense harm on people and tremendous destruction to personal property. Most accidents that have a large truck involved result in notable damages. Because large truck accidents tend to be so severe, they can not only cause immediate and long-term bodily harm to victims but also cause mental impairment that may last a lifetime. 
If you were in a large truck accident in Arizona, call the Arizona large truck accident attorneys at ELG. The 18-wheeler accident attorneys at ELG specialize in helping those who were victimized in injury accidents in the state of Arizona. ELG is known for helping victims obtain the full amount of compensation that they are entitled to. When you work with ELG, you will get the dedicated support and guidance you need to navigate the Arizona personal injury claim process.
Lifelong Impact of Large Truck Accidents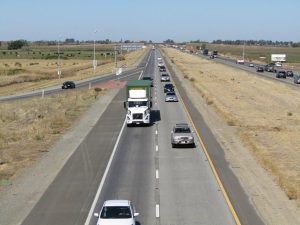 First, because of how massive large commercial trucks can be with weights as much as 80,000 pounds and lengths that can in the most extreme cases be as long as 105 feet, damages that victims face can be both physical and psychological. Physical damages can include a very wide range of injuries such as whiplash, broken bones, paralysis, traumatic brain injury, and amputation. In the most severe cases, physical trauma may not be something that a victim can fully recover from and may result in limitations that can last a lifetime. 
When life-altering injuries are the result of a Phoenix large truck accident, the way a victim goes about every day activities must be significantly adjusted. They may be unable to return to work, they could lose their mobility, they may have to deal with significant deformities. Simply put, a victim of the most serious damages can face challenges and hurdles for the rest of their life which can affect their quality of life. These individuals deserve to be compensated fairly and fully to account for the destruction they endured and the Phoenix large truck accident attorneys at ELG will ensure that these individuals see their full legal justice.
Emotional and psychological injuries are also a part of the aftermath of very serious commercial truck accidents. Sometimes, victims not only have to endure the traumatic experience rendering them significantly injured but they also have to deal with the loss of loved ones in the aftermath of the accident. It is conceivable that a victim could develop anxiety, depression, and post-traumatic stress disorder.
Speak with an Arizona Personal Injury Attorney Today
The combined toll of the psychological and physical damages a victim has to face are immense. Victims deserve to obtain the most compensation possible to help them recover and move on with their lives. After a large truck accident in Arizona, call the Arizona personal injury attorneys at ELG. You can set up a free consultation by calling (623) 877-3600.