Truck Accidents in Arizona
Truck accidents frequently cause serious injuries or even death. In the event of an accident that causes serious injuries, the truck driver might be liable for paying significant costs for damages to accident victims. It is important to note the common causes of truck collisions so you know what to do after a truck accident occurs.
What is Considered a Truck in Arizona?
 A truck is defined as any motor vehicle used to carry property that is for another entity and not for personal property. Typically when individuals are talking about a "truck accident" they are referring to large commercial trucks, which include the following:
   

18-wheeler

   

Semi-truck

   

Delivery truck

   

Tractor-trailer

   

Dump truck

   

Oil truck

   

Tow truck

   

Gas truck

   

Refrigerated truck
Common Injuries Involved in a Truck Accident
 Some commercial trucks can legally weigh up to 80,000 pounds, while the average car weighs about 4,000 pounds. Since the size difference is so large, this means the majority of injuries due to commercial truck accidents are serious. The most common injuries include:
   

Spinal Cord Injuries

   

Internal Bleeding

   

Head Injuries

   

Traumatic Brain Injuries

   

Broken Bones

   

Lacerations

   

Back and Neck Injuries

   

Rib Injuries

   

Chest Injuries

   

Burn Injuries

   

Amputations
Most Common Causes of Truck Accidents
 Truck accidents occur for a number of reasons but the most common causes of commercial truck accidents fit into two main categories. The two main categories are poorly maintained trucks and the negligence of the individual truck driver. Some of the most common factors that affect truck accidents are the following:
   

Poor Road Conditions

   

Tailgating

   

Trouble Breaking

   

Distracted Driving

   

Speeding

   

Blind Spots

   

Fatigued Truck Driver

   

Reckless Driving

   

Substance Abuse

   

Overloaded Trucks

   

Improper Training

   

Trucking Company Negligence

   

Unreasonable Driver Schedules

   

Unstoppable Cargo behind the Truck
The Federal Motor Carrier Safety Administration investigated the specific actions that lead to commercial truck accidents. The information they found was broken down into six categories and they include:
Decision: 38%

of cases suggest the driver was driving too fast for the specific conditions, tailgated vehicles, misjudged situations, and just showcased poor decision making overall.

Recognition: 28%

of cases suggested the driver was distracted by something and failed to observe the entire situation before the accident occurred.

Non-performance: 12%

of cases state that the driver fell asleep at the wheel, experienced a medical emergency, or became physically impaired.

Vehicle: 10%

of cases say that the vehicle experienced failures.

Performance: 9%

of cases indicate the truck driver panicked and made poor directional decisions.

Environment: 3%

of cases suggest truck accidents occur due to poor weather conditions such as heavy rain or fog.  
Finding An Arizona Truck Accident Attorney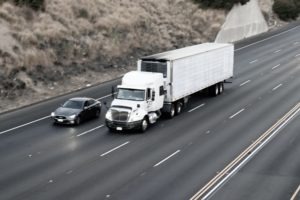 Do not wait to seek legal advice from a truck accident attorney in Arizona if you or a loved one has suffered injuries due to the negligent actions of another driver. The truck accident attorneys at ELG will help you explore your legal options and file a claim on your behalf. Our team of highly trained Phoenix attorneys will research to determine the correct legal claim for your situation so you can focus your personal health and recovery process. Our attorneys will fight for your legal rights because you deserve the maximum amount of compensation. Call us today at either Phoenix or Mesa Arizona law offices at (623) 877-3600.