What an Arizona Semi-Truck Accident Attorney Will Do for You
Commercial truck accidents can be extremely devastating for victims who drive much smaller vehicles. The high level of substantial injuries and the potential for death that exists in commercial truck accidents often is what makes settlements for victims of these types of accidents much higher than the average amount seen in a normal car accident.
If you have been in a commercial truck accident in Arizona it is likely this is the first time you have had to endure such a shocking and terrifying experience. It is important that you obtain as much compensation as possible to pay for all the damages you suffered. The Arizona truck accident attorneys at ELG can see to it that your case is properly represented and litigated so that you see a full and fair settlement. You only have a limited amount of time to file a claim for compensation so to ensure you meet the deadlines and that your claim is as strong as it can be, work with ELG.
What Happens After a Commercial Trucking Accident in Arizona?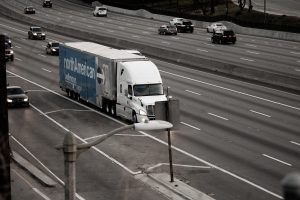 When you work with the Phoenix truck accident attorneys at ELG, your dedicated lawyer will meticulously examine your accident situation. Your attorney will advise you of what your options are for obtaining the maximum amount of compensation. The initial discussion between you and your lawyer will be done during a free consultation that takes very little time to set up.
If your Arizona personal injury attorney at ELG determines you have a case that can win you compensation for your damages and you want to proceed in filing a claim, an investigation into your case will ensue. Gathering all the necessary information and evidence possible is extremely important and getting a greater understanding of how the accident took place is helpful. These facts will help your attorney identify who is liable because when it comes to commercial truck accidents, there can be many parties that must be held accountable to pay victims.
The Phoenix semi-truck accident attorneys at ELG know how to figure out liability. Your attorney will also review the factors unique to commercial truck accidents which can improve a case against all liable parties for the most compensation. We understand the rules set forth by the Federal Motor Carrier Administration and we will look to see if any of these guidelines were violated. We will check information from a truck's black box and also look into police reports that could yield us more information on finding witnesses that can help your case.
The attorneys at ELG will advise you on what actions you need to take while your claim is open so that you don't jeopardize it. This could include limited social media use and reminders to stay current with all of your doctor's orders and appointments.
Speak with a Phoenix Personal Injury Attorney Today
There are several benefits to working with an Arizona 18-wheeler accident attorney and you will be served the best by ensuring that the legal counsel you choose has specific knowledge and experience with Arizona semi-truck accidents. To schedule your free consultation with the Phoenix serious injury attorneys at ELG call (623) 877-3600.