What You Need to Know About Trucking Laws & Accident Claims
Being involved in a crash is an extremely confusing and stressful time. If the crash involves a commercial vehicle, the incident can be magnitudes worse. The size of these vehicles almost ensures that the resulting injuries will be very severe. Also, trucking collisions usually involve more than two vehicles, which compounds the situation and creates more complexity. Thus, it is crucial for those involved in these crashes to be aware of the laws related to the trucking industry. Commercial vehicles typically weight more than 10,000 pounds and can include big rigs, 18-wheelers, and tractor-trailers.
Federal Trucking Regulations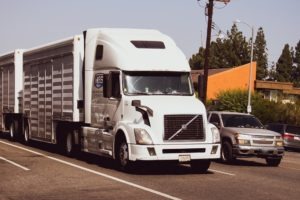 In most cases, the maximum weight allowed for commercial trucks is 80,000 pounds. Studies have found that a majority of trucking collisions involve trucks weight greater than 26,000 pounds. Because of this, it can be assumed that the weight and momentum of the vehicle result in devastating repercussions for those traveling in smaller passenger vehicles. Federal regulations have been passed due to the risk presented by commercial trucks. These are aimed at making these vehicles as safe as possible. Commercial vehicles that cross state lines are subject to these federal regulations. The Federal Motor Carrier Safety Administration is the agency with the authority to register these vehicles and create regulations concerning them.
The FMCSA outlines specific requirements concerning the operational aspects of commercial vehicles. These include training, licensing, and operating these trucks. Federal regulations also mandate the number of hours a trucker can travel before taking a mandatory break and the minimum length of any off-duty periods. These regulations also are applied to vehicle inspection, maintenance logs, and other records. When trucking companies violate these regulations, they can be charged with fines and other penalties. Trucking companies are required to maintain safety and compliance records, which are available to the public. 
What to Do After a Trucking Accident
It is essential to begin an investigation as soon as possible after a crash involving a commercial vehicle before the loss of any relevant evidence. A trained Arizona trucking injury attorney can help you collect relevant evidence that supports your claim. Some pieces of evidence must be gathered within a certain timeframe to avoid losing it. Photos can be taken after the accident, including damages to vehicles and any injuries sustained, as well as other pieces of evidence on the roadway. Interviewing witnesses following the crash are also important, to make sure their memories are fresh.
18-Wheeler Crashes in Arizona
It is well known that large commercial vehicles often cause devastating injuries. These crashes are extremely common, with more than 15.5 million semi-trucks being registered on American roads. It is important that victims prepare themselves in the event of an accident.
Trucking collisions take a horrific toll on their victims. Nearly 4,000 people are killed each year in these collisions. These matters are not to be taken lightly, and an experienced Arizona semi collision attorney can help you maximize your compensation. 
The team at ELG Law gives each case the dedication it deserves. We believe in providing quality legal representation for all our clients. Give us a call at (623) 562-3838 to discuss your case today.