When Are Tire Manufacturers Liable After a Commercial Truck Tire Blowout Accident?
When a large 18-wheeler's tires blow out, the truck driver, as well as occupants of all other vehicles on the road, are at high risk for serious injuries and death. Truck tire blow-out accidents happen all the time which is why it is so common to see fragments of rubber tires scattered about all over the highways. These accidents happen so often that the National Highway Traffic Safety Administration says that every year there are more than 400 people who will die as a result of semi-truck tire blowout situations. In addition to the deaths these destructive incidents inflict, they also are responsible for more than 78,000 crashes across the country on an annual basis.
The aftermath of an Arizona semi-truck tire blowout accident has the potential to wreak havoc and can cause life long conditions and disabilities for victims. It is crucial that victims of Phoenix truck accidents have skillful and experienced legal representation that knows how to determine liability in a commercial truck accident. Victims must also work with a legal professional that knows what to do to ensure the most compensation is obtained for them. The Phoenix serious injury attorneys at ELG have the knowledge, resources, and know-how you want to represent your best interests after a catastrophic Phoenix traffic accident.
How Can Tire Manufacturer's Be Held Liable After Truck Tire Blowout Accidents?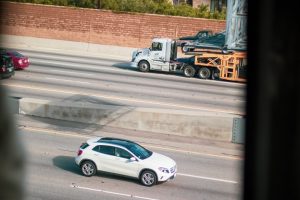 Commercial truck accidents aren't straight-forward and figuring out where liability falls is something that takes an understanding of the law as well as knowledge of how to effectively build an Arizona personal injury case and litigate it effectively. After you were involved in a truck tire blowout accident in Arizona, any or a combination fo the following may be subject to paying for the damages you have had to endure:
The truck driver

The trucking company

The Manufacturer of the tires
There are situations where the truck driver is driving responsibly and observing all guidelines established by the Federal Motor Carrier Safety Administration but their tire blows out on the road. In this case, neither the driver nor the trucking company that they work for is liable to pay for damages associated with a Phoenix 18-wheeler accident. 
There are several cases where defective tires have put public safety at risk. Numerous recalls for faulty tires have taken place. In many situations, the tread of the tires is imperfect or there are issues with belt adhesion not being strong enough to keep the tires intact. If tire manufacture is aware of problems with their tires and yet they allow them to be sold without issuing recalls, warning the public, or taking any action to find a safe solution, they can be held liable to pay for damages sustained after an accident.
Speak with an Experienced Arizona Personal Injury Attorney Today
The resourceful Phoenix truck accident injury attorneys at ELG can review your case and provide you with an explanation of liability and your legal options for compensation. When you have been victimized in a traffic accident in Arizona, schedule your free, no-obligation consultation with the talented Phoenix semi-truck accident attorneys at ELG by calling (623) 877-3600.