Where Do Truck Accidents Usually Occur?
You most likely come across big rigs or 18-wheelers each day on the road. Though most traffic accidents in Arizona occur between passenger vehicles, truck accidents are notorious for serious injuries or even death. Furthermore, truck accidents involving passenger vehicles can be devastating and particularly difficult to litigate. Because these accidents with oversized trucks and smaller passenger vehicles can have tragic consequences, it's important to be prepared.
In 2015, nearly 120,000 traffic accidents occurred across Arizona, averaging more than 300 collisions each day of the year. The most severe of these crashes involved big rigs, so it's vital to stay aware when it comes to truck accidents in Arizona.
Drivers who have sustained injuries in truck accidents may have several opportunities when it comes time to file a claim. It's important to know how to handle the aftermath of a truck accident. Contact the Phoenix accident attorneys at ELG if you've sustained injuries in a truck crash. Our team of truck accident lawyers in Phoenix is here to help.
How Often Do Truck Accidents Occur in Arizona?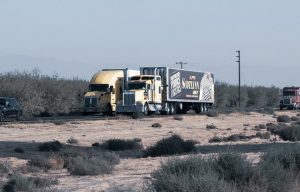 Due to their larger size and weight, big rigs are more dangerous than passenger vehicles. Therefore, truck crashes are more likely than car accidents to result in serious injuries or fatalities. Plus, trucks have more inertia, making them more difficult to slow or stop. Because of this inertia, big rigs continue on their path of travel after an initial striking incident. For smaller vehicle drivers, this could mean catastrophic results. A large truck may crush a smaller passenger vehicle in its path.
According to the Insurance Institute for Highway Safety, more than 3,660 people were killed in truck accidents in the United States in 2014. In Arizona, nearly 3,000 truck accidents occurred last year alone. But interestingly enough, not all of those involved in these incidents faced similar risks. In fact, victims outside of large trucks or even other passenger vehicles comprised almost 85% of fatalities associated with these accidents.
Although truck accidents aren't rare, they aren't as common as typical traffic accidents or fender benders between two or more passenger vehicles. This is especially true since Arizona regulations for commercial truckers are in place to prevent many of these collisions.
Where Do Truck Accidents Typically Happen?
According to studies by the National Highway Transportation Safety Administration (NHTSA), the most common causes of large truck accidents include unqualified, improperly trained truck drivers and inadequate truck maintenance, causing tire blowouts, engine problems, and brake failures. Their research also showed that approximately 68% of victims were drivers or passengers inside vehicles other than large trucks. Another 15% of fatalities included pedestrians, bicyclists, and motorcyclists, with only 16% of fatalities comprising truck drivers.
Furthermore, the Insurance Institute for Highway Safety (IIHS) has published extensive data on truck crashes. Their data show that large trucks accounted for just fewer than 4% of all registered vehicles across the country but are responsible for 9% of all crash deaths on the road. In Arizona, the statistics somewhat mirror the overall trend in the United States. Drivers of smaller passenger vehicles, as well as pedestrians and cyclists, are disproportionately affected by fatal truck accidents. These accidents most frequently occur on busy highways and intersections, where slow or stalled traffic often contributes to big rig accidents.
Truck Accident Attorney in Arizona
Staying informed on truck accident data is important for all drivers. Big rig accidents occur daily on highways across Arizona, so it's essential to know who is most affected by these tragic incidents.
If you sustain injuries in a truck accident, contact our Phoenix accident attorneys at ELG. Call us at (623) 877-3600 for a free consultation and legal representation today. It's important to seek legal recourse in the aftermath of a crash, and our truck accident attorneys in Mesa or Phoenix can help you in your time of need.