Why You Need an Arizona Truck Accident Attorney After an Accident
Accidents involving large trucks often result in massive damages. These enormous vehicles are much larger than most other cars they share the road with. An average commercial semi weighs about 80,000 pounds versus a standard passenger sedan that weighs about 3,000 pounds. Each year the United States reports approximately 4,000 fatalities and over 75,000 injuries as a result of accidents where semis are involved.
According to the American Trucking Association (ATA), there were 36 million trucks registered in 2017 for business purposes which made up only 24% of all trucks registered in the country. All registered trucks that year traveled approximately 297.6 billion miles. On April 21, 2017, there were nine injuries and three critically injured in a Phoenix, Arizona crash. The multi-vehicle crash included 7 cars. The cause of the crash was reported to be from a large commercial truck that was towing a tractor which slammed into traffic because the driver was unable to stop.
What Causes Truck Crashes?
According to the U.S. Department of Transportation 23% of semi-truck accidents result from speeding. Speed is an issue for any driver and is the cause of 30% of all fatal crashes in the country. When a very large vehicle is driving at excessive speeds accidents that result are often catastrophic because of the extra force that comes with these vehicles. 
Speed isn't the only thing that causes trucking accidents, other common issues for truckers include:
Driver error

Poor truck maintenance

Equipment failure

Inclement weather

Improper cargo loading
When accidents involving trucks take place there is not only the physical harm and damage to worry about but also the cargo the truck is hauling. Some trucks are hauing toxic chemicals which can cause significant danger to public health if the chemicals spill out. Flammable materials are another issue. If a large truck full of highly flammable materials catches fire the accident becomes an extremely perilous event.
What Should You Do After A Truck Accident In Arizona?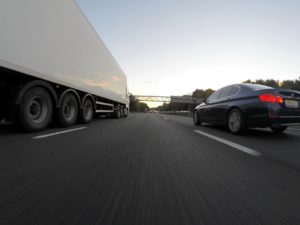 You are likely feeling overwhelmed, scared, and stressed after such a traumatic accident. If you or a loved one sustained injuries obtaining medical treatment and working through recovery is another weight around your neck. You may wonder how you are going to pay for all the damages that resulted from the accident. You shouldn't feel like you are alone and have to fight the uphill battle by yourself. You deserve compensation for your damages because you need the best care to get better. 
The Arizona serious injury attorneys at ELG will take on the legal challenges of filing a personal injury claim for you and fight on your behalf so that you obtain a full and fair settlement after your accident experience. Truck accidents are complex because they can have multiple parties who are at-fault. Enlisting the help of an experienced Phoenix truck accident injury attorney at ELG will work diligently to ensure that you are well represented and compensated for your injuries. We have many years of experience handling complicated truck accident cases for victims int the state of Arizona and we can help you with yours.
At ELG, our bilingual attorneys are strictly focused on representing victims in personal injury cases. We have an excellent reputation in the state as a resourceful, successful, and aggressive personal injury law firm. Call the lawyers at ELG at today 623-562-3838 to set up a free consultation at either of our locations in Phoenix and Mesa, Arizona.