Why Don't Trucking Companies Invest in Driver-Facing Cameras?
Large trucks pose many health and safety risks to other drivers on the roads. Due to their size, when large truck accidents happen, they can result in immense destruction, bodily harm, and increase the risk of death. Rollover accidents, jackknife accidents, speeding collisions, and toxic spills are just some of the potential accidents that can happen which produce massive harm to the public. Due to the dangers that large commercial trucks pose, the Federal Motor Carriers Safety Administration defined rules regulating the industry. The FMCSA guidelines are designed to improve overall road safety for truck drivers and other drivers that they share the roads.
Truck-related crashes happen frequently. The Insurance Institute for Highway Safety reported that in 2018 approximately 4,136 deaths occurred after accidents where trucks were involved. If you have been injured or if you lost a loved one in an Arizona commercial truck accident the Arizona commercial truck accident attorneys at ELG can help you with an Arizona personal injury claim for the most compensation. You will need to recover costs to help you with medical expenses, pain and suffering, property damages, and lost wages if you are unable to return to work after your accident. 
Why Are Driver-Facing Cameras in a Cab Controversial?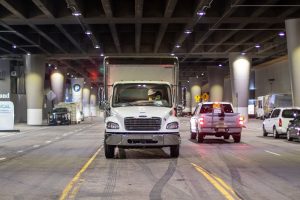 Given the prevalence of 18-wheeler accidents and how much destruction they cause, it makes sense that these truck drivers and companies adhere to specific laws and specifications separate from what other drivers must abide by. It also goes to reason that any additional technology or procedures which can further increase safety on the road should be acceptable by everyone. As technology advances in every sector, improvements in additional safety features and products continue to be developed.
One such form of technology that some trucking companies are implementing in their driver's cabs is driver-facing cameras. The idea is that a truck driver and their surroundings can be monitored to decrease the chances that a driver will engage in unsafe driving practices. This would then reduce the risk of catastrophic crashes on the road. While some trucking companies are open to these types of extra safety measures, others are not as welcoming.
The cameras can not only record and tape a driver but they can also use artificial intelligence to determine if a truck driver is operating their big rig is exhibiting signs of exhaustion or fatigue. Should these symptoms be identified, the driver is immediately alerted to the situation so they can pull over to rest. Feedback on the incident is also sent to fleet managers so they understand what is happening in real-time.
There are a couple of reasons why some trucking companies have decided not to employ this type of technology. First, trucking companies don't want to make the monetary investment to obtain the technology. Second, the industry has been struggling trying to fill many open truck driving positions. Because many truckers do not like being constantly monitored when they are driving, this technology could be a turn off to the fewer and fewer professional truck drivers open for employment. For this reason, trucking companies want to attract and keep truck drivers will take a pass when it comes to installing these devices.
Speak with an Arizona Wrongful Death Attorney Today
After an Arizona 18-wheeler accident, contact the Phoenix truck accident attorneys at ELG. To schedule your free consultation with an Arizona commercial truck accident attorney call (623) 877-3600.