What Are Your Rights After Your Child Dies from an Arizona Large Truck Accident?
There are almost nine million people who work in some capacity in the trucking industry. Out of the almost nine million people the trucking industry employs, 3.5 million drive trucks. Approximately 15.5 million trucks are traveling about the roads throughout the United States with about two million being large tractor-trailers. If you are traveling on almost any highway in the country, it is likely you will see a large truck. In 2006, trucks traveled over 430 billion miles.
When accidents take place involving large commercial trucks, the aftermath is most often devastating, especially for occupants of smaller vehicles. In Arizona, if you have been the victim of an Arizona large truck accident, pursuing an Arizona personal injury suit can be very complicated because of the way the laws handle trucking accidents. Unlike when you are in an accident with another private car and you exchange information, when just one truck hits you there could be multiple parties responsible for paying for your damages. The experienced Arizona large truck accident attorneys at ELG know how to evaluate these situations and determine which parties must be held accountable for the destruction you had to endure.
What Happens When A Child is Killed in an Arizona Large Trucking Accident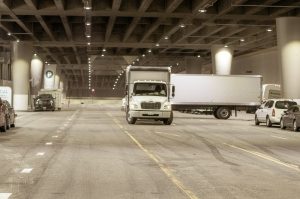 Any loss of life in any accident is tragic for the loved ones left behind. When a child loses their life, it is particularly hard to bear for parents, family members, and close friends. Every year there are approximately 500,000 trucking accidents that lead to thousands of deaths and around 100,000 injuries. When a parent loses their child in an Arizona commercial truck accident, they assume significant burdens including medical bills, costs of final expenses, and burial, in addition to devastating emotional pain.
After a large commercial trucking accident in Arizona takes place, some of the parties that can be held accountable for the incident include:
Trucking company

Truck driver

Shipper

Owner of the trailer
Every Arizona personal injury case is different and the unique factors associated with each case are what will determine how much the case is worth. There have been many cases where truck drivers were driving under the influence of drugs or alcohol at the time of their crash. If this is true for your case and you lost your child as a result of this clear negligence and unlawful conduct, in addition to the civil damages you can receive you may also be able to secure additional money on top of your settlement in the form of punitive damages. While some states limit the amount of money from punitive damages, in Arizona, punitive damages are not capped.
Speak with an Arizona Wrongful Death Attorney Today
When your child is taken from you too soon after a Pheonix truck accident, call the Phoenix truck accident attorneys at ELG. The Phoenix wrongful death attorneys at ELG offer completely free consultations which take very little time. Representatives are available to take your call and help you schedule your free consultation 24 hours a day and seven days a week. Call ELG today at (623) 877-3600.