To Sign or Not to Sign a Release After Your Auto Accident in Arizona
Here is the scenario, you have suffered medical damages or property damages and the insurance company asks you to sign a release. Should you do it? If you answer "Yes" to any of the following questions, the answer is simple: "NO."
You want legal guidance

You don't understand completely what the document you are signing means and says
Deciding Whether to Sign
There are circumstances where you could immediately sign a medical record or property damages, but the incidents wherein this is adviseable are very limited. If you are confused or unsure, you can speak with the knowledgeable Phoenix car accident attorneys with ELG Law to obtain help. The unfortunate reality is that adjusters are going to try to have victims sign releases as soon as they can. The reason for this is because once a release is signed, they can relieve themselves from incurring any further legal action.
Of course, they want to quickly close the case and move on. But is this the best outcome for you? Considering insurance company tactics, likely not. Some injuries are very evident right after an accident while others take time to manifest. The recovery needed for injuries may take some time to fully understand. If you settle too soon, you will be left with the brunt of the costs and burdens from the accident that was never your fault, to begin with. That is just not right.
The Arizona serious injury lawyers at ELG Law understand this process and how the aftermath can unravel over time. We know that if you sign too soon, there is not much you can do at a later date should you realize you need further compensation. This is why we will fight on your behalf and take on the insurance companies for you. You should focus on healing while we focus on getting you the highest amount of compensation you deserve for your damages.
When to Accept a Settlement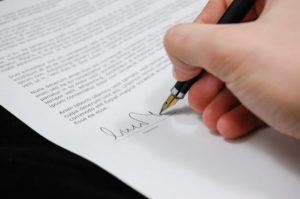 When an offer is presented and you are ready to sign, ensure the following is true:
I feel 110% better and have no outlying issues relating to my accident

I do not want guidance from a legal professional

I know the laws relating to accidents and understand how to calculate fair compensation so I can tell if the settlement is appropriate

I know that I will not need further compensation beyond the settlement amount in the future
Auto Accident Attorneys in Phoenix
It is okay if you have questions about accepting a settlement. Answering questions and providing guidance is what legal professionals do. Don't hesitate to call the Arizona personal injury attorneys at ELG before you sign off on anything to be certain that you are getting the best deal. Our attorneys are here to help you at your preference of either our Phoenix or Mesa, Arizona personal injury law offices at 623-562-3838.